This is a non-standard Waterway hot tub pump that is a specific compatible replacement for the 1.5HP 56 Frame Waterway pump model PF-15-2N22 used in Beachcomber spas that have 8.0 amps on high speed and 3.0 amps on low speed with an intake size of 2.5" (measures 3-5/8" across outside).

Pump details:
Waterway Executive 56 hot tub pump,
2 Speeds.
Compatible replacement for the Beachcomber Waterway 1.5HP, PF-15-2N22C
2.5" intake, (Measures 3-5/8" outside to outside of thread)
2" discharge, (Measures 3" outside to outside of thread)
230 Volts, 60Hz
8.0 Amps high speed (3450 RPM)
3.0 Amps low speed (1725 RPM).
New cord and unions not included, sold separately.

2 union O-rings included, automatically added to cart at checkout.

Only ships from London Ontario to all of Canada

Ships in Canada only, cannot ship to USA.
Orientation of wet end.
Pump wet end can be oriented in 90 Degree increments, up, left or right as shown in illustration on the right. Pump will ship with discharge directed up. To change the discharge orientation, loosen the pump's four through bolts from the back of the motor and pull them back enough to disengage. Then rotate the wet end to the desired position, realign and re-tighten the bolts.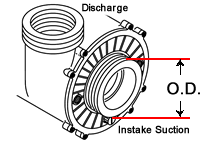 Important
Determine the pump plumbing size by measuring the outside diameter of the wet end male threads. Plumbing sizes for hot tubs are nominal, and not actual outside diameter (O.D.) of the the threaded intake or discharge. Once you have removed the pump, use a tape measure to check your old pump thread size and compare to the sizes below.
If your pump thread O.D. is (approx.) 2 3/8", Then you'll need a pump with union size 1 1/2".
If your pump thread O.D. is (approx.) 3.0", Then you'll need a Pump with union size 2.0".
If your pump thread O.D. is (approx.) 3 5/8", Then you'll need a Pump with union size 2 1/2".
Pump Dimensions:
Great Canadian prices aside, buying from Pool and hot tub depot in Canada provides access to one thing you can't get anywhere else: our expert technical support. Installation questions or need assistance finding a compatible replacement part? We're here to help!
Manufacturers 1 year limited warranty.