Winter and cold weather can mean many things: the warm fireplace, sledding outdoors, building snowmen, and quality time spent with family. While many people love to add "snowy hot tub soaks" to that list, for others, spending that much time in the frigid cool air can discourage using the spa. With the cold weather firmly upon us, there are things you can do to make your winter hot tubbing experience a little easier and a lot more enjoyable!
Preparing for the Cold
Ideally, by the time the snow falls, your spa is prepped and ready for the harsher weather conditions that winter tens to bring. Unfortunately, some winters it can be hard to predict when it's going to snow and where, especially this year! If you are able to estimate when the cold weather is coming, preparation is key to readying your spa for the season.
Make sure your water levels are where they should be, about 2-3 inches above your filter line. Water levels are absolutely crucial during cold weather. If the water is too low there is a risk of your internal hot tub components freezing and being permanently damaged.
The inside of your spa is full of toasty warm water, but to keep your spa in tip top shape, it's important to protect the outside of the spa as well. Make sure your insulated spa cover is well-insulated, shows little signs of wear or damage, and has a good tight seal. This is important for your hot tub to maintain it's consistent warm temperatures without the heat escaping through the top.
Your spa cover should always be stored in a safe place away from the snow and damp conditions to maintain their peak effectiveness. Cover lifters can be very helpful for snowy areas as they keep your insulated cover out of the snow while you soak. Having a cover lifter installed also cuts down your time outside, as you don't need to spend time trying to muscle your cover off the spa, and instead can simply slide it off where it is stored safely to the side of your tub.
Ice and snow accumulating around and near your hot tub can also cause wear. Ensure snow is kept away from direct contact with your spa to maintain peak condition. You can also use products such as cover caps, uv conditioners, or even a gazebo or awning to help protect your exterior from weather conditions.
| | | |
| --- | --- | --- |
| | | |
| Give your spa cover a quick clean once in awhile to help keep the salt and grime residue from eating away at your cover, while also protecting the surface from the sun's UV rays. | Protect your spa from the elements by covering it with a cover cap. Available in two lengths: protect just your insulated cover if it's not too snowy, or look at longer options to protect from the cover down. | Transport yourself away to a tropical paradise in the comfort of your own home by using aromatherapy products. Available in a wide selection of scents, so you can find the one that best matches your style. |
Safety is Essential
Slippery ice and wet snow does not make for safe walking conditions. Make sure to always keep a clear shovelled path to the hot tub so you don't have to walk through the snow to get in (or out of) the tub. Spa steps are also a must-have for winter as they have textured threads to reduce the risk of slips and falls on slippery surfaces.
Once you are in the hot tub, make sure to keep hydrated (bring a glass of water in with you) and soak for a maximum of 20 minutes. Your body temperature is raising in the hot water, and transitioning to the extreme cold outside after soaking for a long time can place a lot of extra stress on your body.
Its nice and warm in the spa, but it definitely isn't when you're emerging from the hot water into the icy wind. Keep a robe and some slippers nearby to keep you comfortable in the cooler temperatures, and to add a cozy vibe to your evening soak.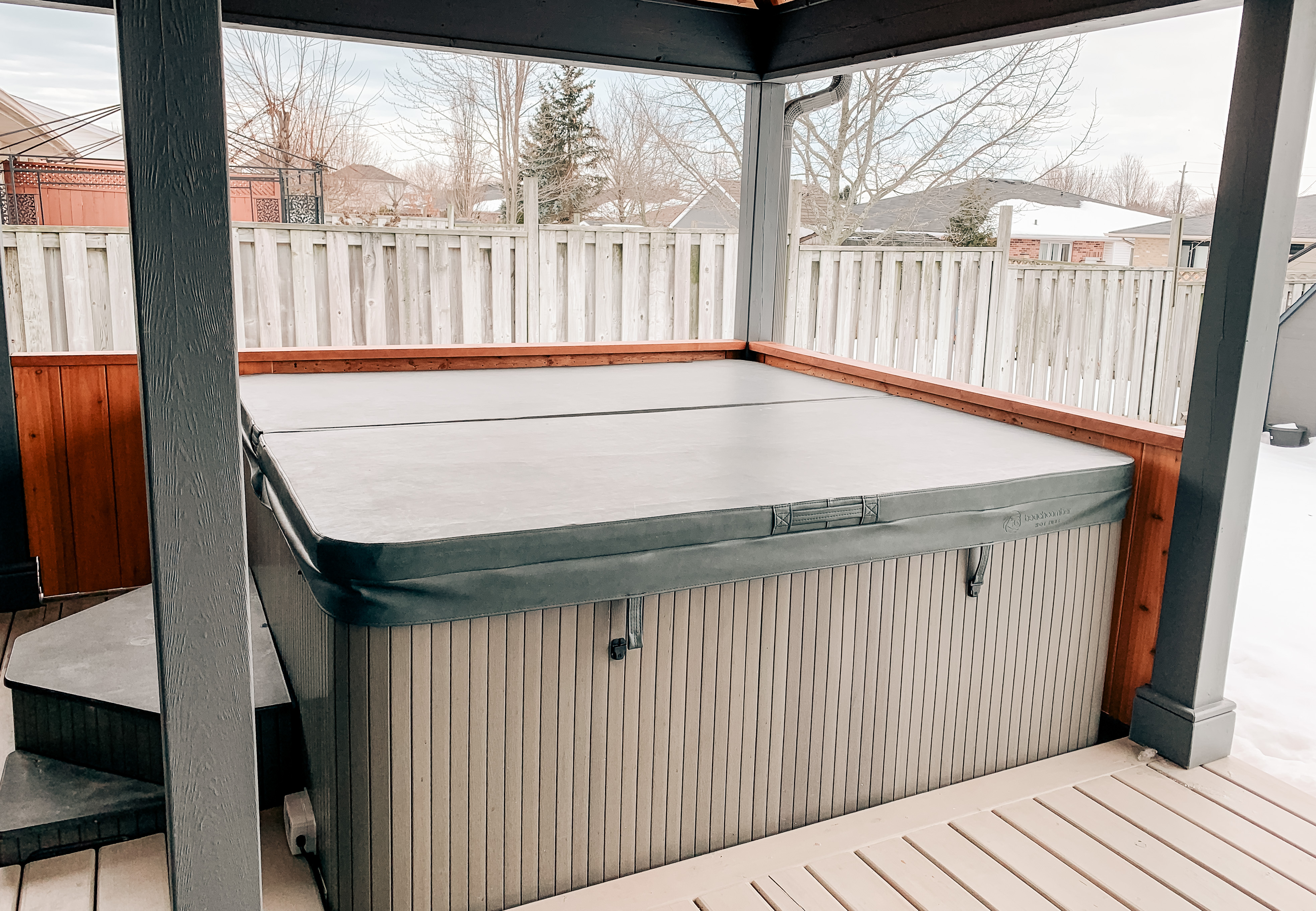 Photo submitted by Tiffany D, Ontario
When the snow falls, it can be the most beautiful time of the year to enjoy a nice soak in the hot tub. Follow these tips and tricks to help keep your spa happy and cozy warm during some of the more blistering months, and enjoy your outdoor paradise through all the seasons.