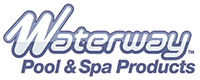 This 4 HP Waterway pump is one of the most popular 2 speed pumps used in hot tubs over the last 10 years. The PF-40-2N22 is available with 2 different intake sizes, this model has the -13 in the model number which references a 2-1/2" intake size that measure 3-5/8" outside to outside thread. The top discharge size is the same on all standard Executive 56 series pumps.
Pump details:
4 HP Waterway Executive hot tub pump,
2 Speed heavy duty 56 frame,
Waterway OEM part # 3721621-13, - Part #PF-40-2N22.
2 1/2" intake, (Measures 3-5/8" outside to outside of thread)
2" discharge, (Measures 3" outside to outside of thread)
220-240volt,
12.0 Amps high speed (3450 RPM)
4.4 Amps low speed (1725 RPM).
New cord and unions not included, sold separately.
Some hot tub pumps have an additional barb fitting instead of a drain plug,
this part # 672-4350 is sold separately

here

We Include, 2 union O-rings, automatically added to cart at checkout.
When replacing a hot tub pump it is recommended to replace the union O-ring as they can develop flat edges from being compressed over the years and when a new pump is installed without replacing the O-ring the union can leak and if over tightened will crack.
Many of the 4HP Waterway hot tub pumps have the model number PF-40-2N22C, the last digit in the model number "C" only refers to the brand of electric motor Waterway put on that pump. Waterway uses electric motors from several different suppliers and you may find a Waterway hot tub pump with a Century electric motor, a common A.O. Smith electric motor and some of the newer models now have the US Motor brand of electric motors on them. When selecting a new replacement Waterway hot tub pump for your hot tub, it's important to select a replacement Waterway pump that has the same amps for high speed and low speed.

The Waterway Executive 56 and Executive 48 will normally have a 2" discharge (Measures 3" outside to outside on the threads) but the suction (Intake) on the face of the pump is available in 2 different sizes, which is very important to match to your old pump. The size of the plumbing in the hot tub cannot be used to identify the union size on the Waterway pump. It's a good idea to always measure the threaded intake and discharge of your old pump and purchase a placement with the same size.

Orientation of wet end.
Pump wet end can be oriented in 90 Degree increments, up, left or right as shown in illustration on the right. Pump will ship with discharge directed up. To change the discharge orientation, loosen the pump's four through bolts from the back of the motor and pull them back enough to disengage. Then rotate the wet end to the desired position, realign and re-tighten the bolts.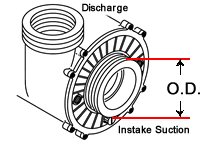 Important
Determine the pump plumbing size by measuring the outside diameter of the wet end male threads. Plumbing sizes for hot tubs are nominal, and not actual outside diameter (O.D.) of the the threaded intake or discharge. Once you have removed the pump, use a tape measure to check your old pump thread size and compare to the sizes below.
If your pump thread O.D. is (approx.) 2 3/8", Then you'll need a pump with union size 1 1/2".
If your pump thread O.D. is (approx.) 3.0", Then you'll need a Pump with union size 2.0".
If your pump thread O.D. is (approx.) 3 5/8", Then you'll need a Pump with union size 2 1/2".
Please note!

Some brands of hot tub spa pumps have non-standard threads and use fitting sizes
with different dimensions. These brands are: Hayward, Jacuzzi and sta-rite.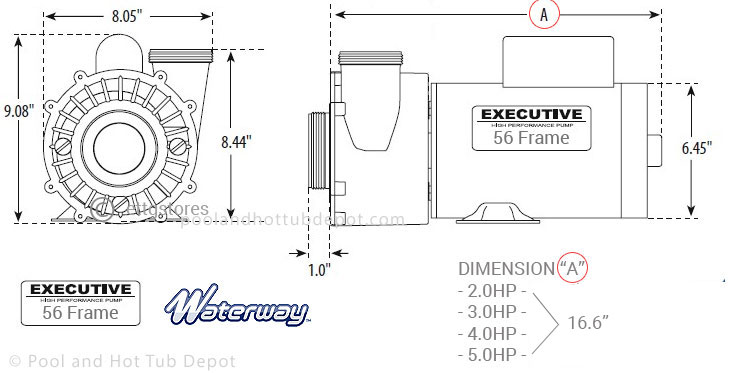 Great Canadian prices aside, buying from Pool and hot tub depot in Canada provides access to one thing you can't get anywhere else:
our expert technical support.
Installation questions or need assistance finding a compatible replacement part? We're here to help!
Call Us 1-877-845-1993