Waterway 3"Poly-Storm Twin Roto Jet - Gray Scallop face
Waterway 3"Poly-Storm Twin Roto Jet - Gray Scallop face
Availability:
Usually ships in 1-3 days.
Shipping:
Calculated at checkout
---
Product Description
Mini Storm Jet Adjustable Twin Roto Jet Internal Features
Front face diameter of 3" across.
Textured Gray Jet Face with "finger grip" Scallops
There is a large face version with a 3-5/16" front face diameter - these are interchangeable with the standard size.
Comes with a 5/16" Orifice for a recommended flow rate of 9-12 gallons per minute.
This jet internal is part of the Mini Storm Jet series. All the Mini Storm Jet internals are interchangeable, so you can "mix and match" them.
This jet has twin adjustable rotating directional water outlet. This jet has a comfort adjustment as well, when you rotate the front face of the jet you can adjust the amount of water let into the jet.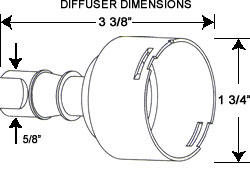 Find Similar Products by Category
Customers Who Viewed This Product Also Viewed